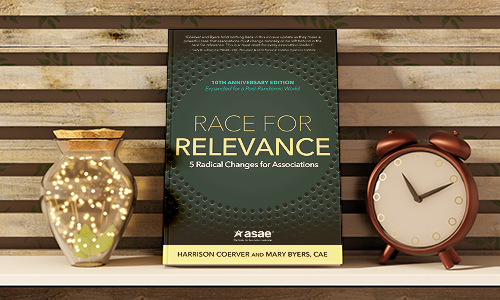 Race for Relevance: 5 Radical Changes For Associations Tenth Anniversary Edition
Ten years after calling for radical change in their landmark bestseller Race for Relevance, authors Harrison Coerver and Mary Byers are back with this expanded 10th anniversary edition—a guidebook for association leaders navigating a post-pandemic world.
The competitive and other business pressures challenging associations to deliver greater value a decade ago have only intensified. Some associations heeded the call for change, and some of their stories are shared in this new edition. Other associations have continued to operate the same way they have for years—and likely are reeling.
An important overlay for this new edition is the pandemic, which the authors underscore as not only a disruptor but an accelerant and tailwind for needed changes to governance, portfolio management, and technology.

Race for Relevance provides a bold, no-nonsense look at not only the challenges facing associations but the actions they can undertake to thrive.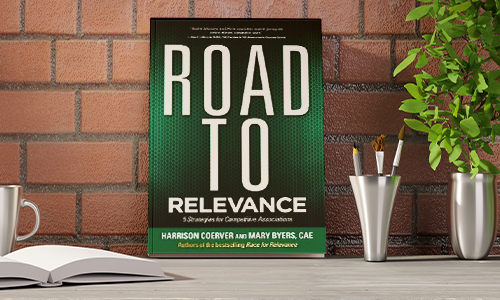 Road to Relevance: 5 Strategies for Competitive Associations
Use insights from Road to Relevance to help move your organization to greater discipline, focus, and value. Framed by five key strategies, Road to Relevance is a guide to competitive advantage. The five strategies and related disciplines are clearly defined, and their execution is explained and illustrated through examples.
Among other takeaways, you'll learn

how to identify strengths that deserve a concentration of resources
the value of a coordinated product and service portfolio and how to achieve one
the negative effect that marginal or underperforming activities have on your organization and ways to abandon them
| Access Date | Quiz Result | Score | Actions |
| --- | --- | --- | --- |